Jeffery E. Lowery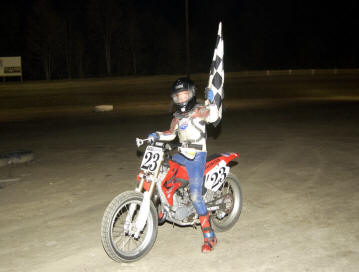 Hometown: St. Louisville, OH
Birthdate: August 8,1997 Age: 11
Height: 4' 11" Weight: 83 lbs
School: Newton Elementary - 6th grade
Years Racing: 7 Favorite Discipline: Flat Track
Favorite Track: Circleville, OH - ½ Mile
Classes: 85cc 7-11 & 100cc 7-11
Goals for 2009:
To win the #1 plate in the 85cc MOD class
Bikes: 2007 JJJJ Racing Honda CR85RB
2007 JJJJ Racing Yamaha YZ85
Training: Calisthenics & riding at home
Favorite Food: Crab Legs
For Fun: Fishing, Boy Scouts, R.C. Trucks & Riding anything with two wheels!
Favorite song: "Mommas Don't Let Your Babies Grow Up To Be Cowboys"